Some of my readers commented and tagged that they want to see my newly-adopted baby pets. So here they are! Yes, they're from the streets, so I gave them a home.
I don't give a shit whether an animal is a mongrel or pure-breed. I love them okay? I don't practice racism anywhere. I'm not an animal racist. If you don't discriminate people according to their race, I don't think you should do the same with animals. I'm not lecturing you, you should be able to land on your own mindset and way of thinking. Just trying to share mine.
Note: The captions are in Weedle's point of view, and in a different accent (somewhere between British and French). "The eeveel keetee; do not forget," he added icily as he snaked his way beside me. Ok I think it's funny. A cat snaking. See it? Looool. How can a
cat
, which is a cat of course,
snake
? Loool I know okay.
Snake
is a verb and
cat
is a noun, at least in the sentence's usage. But what if, what if I switch their places? "A snake
catted
beside me." Wtf how can a
snake
, ssssss,
cat
? Pffchfchfhfhfh I can't even. I mean they don't have legs so... Am I confusing you? *le troll face* I lurrve my logic.
Lo and behold, le almighty Weedle, paws up, eyes dilated. Purrrfect.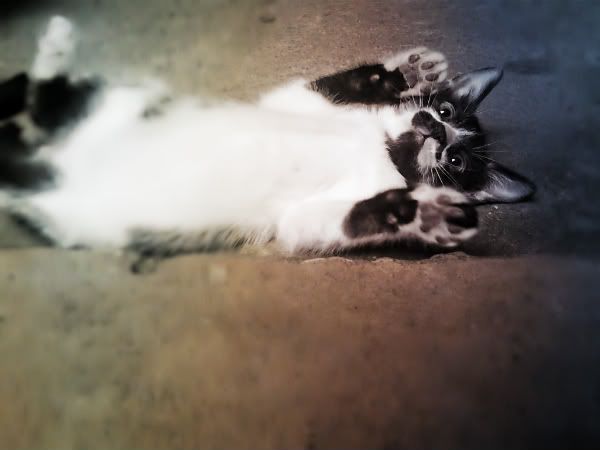 (What Weedle probably thought) No. NO. Hunooooooooo I do
not
want any of my photographs powsted in your stchupid blug. I. Will. Not. Let. You click that annoying camera phone you have there... oooh! No.
No!!!!!!
*twenty eight minutes of bloody catfight later*
So I have hud (heard) yew want to see mey? It is I, le Weedle le great, who had conceded in this "I dun wunnu take le fotozzz huhuhu game". Only because my
alleged
mastuh wishes to.
I can haz squeaky toy keetee. And an equally dumb, annoying (in my opinion, Rainy *ehem* Martinee thinks he ees the smartest beecause he can seet and take out dirty clothes, I beg tew differ) chienne. Yes, I chose to call him a chienne (French for female dog, aka bitch) beecause he loves cuddleeng with mee.
He is a girl. In
my
opinion.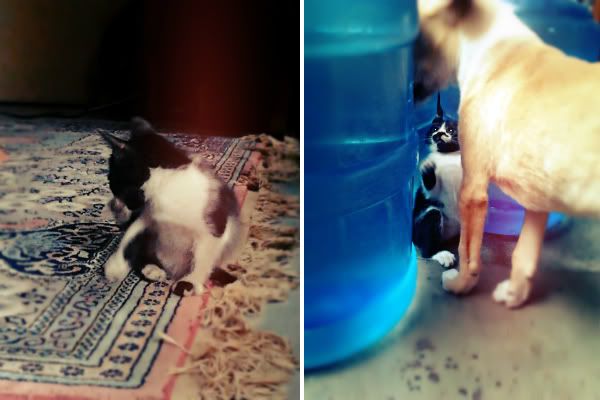 Don't I look gorgeous and extra royal on this exquisite carpet? You say.
Don't I look dasheeng and smart and incredibly eeveel, claws alreadee out and eyes set for the keel. Oh, I love my cruelty.
You don't say?
How can my master's little seebling adore the brainless git? But but I sleep next to master. And and I always lie on her left leg. So I must be loved more.
I must bee.
********************I can't take it anymore. I feel stupid writing like that.
Please do realize that taking photos of them was toilsome. They just wouldn't go steady for 2 freaking seconds!
Well it
is
true what Weedle said, he kind of hates Coco. The puppy adores the kitty, but the kitty... sigh. So they always end up playing-fighting. Weedle wins everytime of course. But when it comes to cuddling beside me while I watch The Vampire Diaries or HIMYM (or New Girl), they seem to be in some kind of a truce because Weedle's always on my left leg, and Coco, by my right.
And last night, the stupidest thing happened to me. My dog ate my money.
Literally
. I was trying to starve him
a little
because he doesn't finish his food and it always goes to waste. Lol. So I guess trying to make him go hungrier wasn't a good idea after all eh?
Now I'm out of cash for the next few days. I was planning to go to Nel's to pig out and just hang, watch movies.