My brother while we were riding the LRT. We went to Quiapo church because it was a Friday yesterday. His prayer schedule.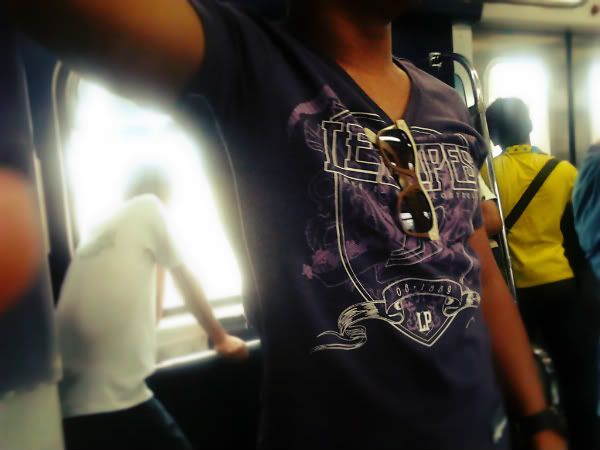 Then we went to Makati to meet le boss. I really,
really
like taking photos of my mother without her knowing. She looks more relaxed.
We ate at Tony Roma's with my mother's friend Carol. I ordered Cajun pasta and Mojitos. The pasta was tasty, though a little spicy for my taste. But the Mojitos. Wowww. What the f was I thinking? I'm familiar with the taste... but the effect wtf. Normally I just frown at everybody I know, but when I drink, I can't stop smiling. So yeah I was walking around the mall with a cheesy smile plastered on my face. I even said "hi" to the security guard when he checked my bag at the entrance. And the mint leaves look so sexy.
My brother's order. How he chomped all of it I've no idea.
That's him, my big bro. Eldest brother actually. He is, as expected, bossy and speaks with authority. I hate it sometimes because I
always
lose when I argue with him. Logic-wise, I'm epic win of course. But it's the
authority
that prevails in the end. Unfair.
I'm blogging again but I don't know why. Normally I don't update soon but what with all the photos I have with nowhere to post on. Sigh.
But but but later, I'm going out with my best friend Nel. The last time I saw her was last month I think. She said she missed getting drunk so...
Hehehehehehe.
What? I'm 18 okay. Legal age. Legal age. Legal age. Legal age. Being old isn't always a bad thing.