It's January now for the gajillionth time and you're probably back dragging your ass to school again. Some of you just returned from your Christmas hols and some started a whole new school year. Here's the dig: most of my readers are, by now, seniors (who are graduating on March (Filipinos); who just started their final year (Malaysians) or even college.
This is to pay tribute to my sparkly-and-sometimes-dull (loljk it's always dull because I suck) high school life. It will be divided into three posts. *drum rolls*
Junior/Senior Prom, February 2009. These are three of the
twelve
photos I took that night.
Twelve?
Are you fucking kidding me huh, self? Should've taken more but oh well.
Angelo and I. He's a
soft
fella. I like this photo because it shows my now-mugged gold and white gold necklace. Aaand our eyes look slitty and small and and mysterious which is a bit gay.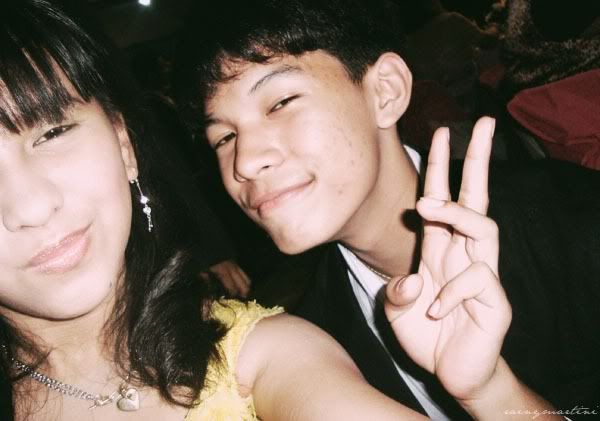 Timothy and Louie (an awesome artist who folded a shitty piece of paper into a speedboat) tango-ing.
A group photo that shows how much of a party girl I was that night. Re: my messy fringe that I didn't notice until I saw the photos. Ugh, my friends could've told me! You ass. Did it on purpose and probably laughed about it. Well to be honest it
was
a bit funny.
From left: Jullian, Cherciska (the Prom Queen), Rainy, Nicolo, Jazmine, and Shaine.
I didn't make the most of my Junior year and there aren't enough photos to post. Usually I slacked off every Wednesday because of double Chemistry and double Geometry, my own death. Lol. And there were issues back then I didn't feel like going to school so I kept flying to Singapore to visit my friends (even on School days). I regret doing that.
I messed up the chance to spend time with my classmates but what's done is done. I kinda made up for it on my senior year though.
Now I feel like doing it one in post... but there are over twenty photos in all! I won't proofread this post so there might be errors. Albeit, I don't see any telltale red marks under any words so booyeah.
Watch out for the next posts!!
And I'll probably change my layout soon. This one's boring me to hell.