This is the fourth part because... every thing has to end. Oh god, here we go again. You're probably sick of reading that line. But cliché or not cliché, the line proves to be unfeigned. There were a lot of events that happened during the final months of my senior year. If anything, I'd love to have it back. Albeit it was also the time when I got snowed with difficulties a teenager must not go through. No matter, my friends were there. I wish they were still here though. Not that anything happened; in fact, there'd been nothing at all.
It's amazing how nothing can eat everything out. You hungry ah, nothing?
From left: Bianca, Nese, Me and Nel. This was taken before our The Congo performance.
Oooooof. Haha that's how I really smile. I don't know why wtf. That's my normal state.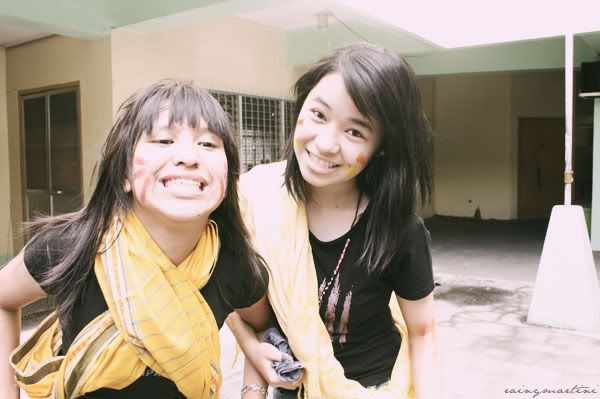 This is Ange.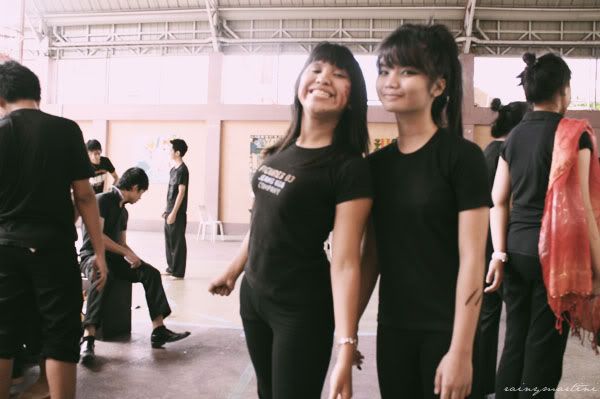 Some of the girls from my section, IV - St. Peter (yes, I'm from a Catholic school despite my religious views). Featuring the segregated trash can on the very left.
A classroom shot with half of the class. I took this during the elimination round for the quiz bee participants. When I took my camera out our Economics teacher just yelled, "Oy picture picture!"
OH GOD WHO IS THIS GIRL.
So there you have it. A sneak peek of my final years as a high school student.
I wish you all a very happy final year. You have months to go before the school releases you and there would be a lot of stuff that's going to happen. All I can say is, as much as the drama shakes you, don't fight it. There'll be a lot on your plate you'd think you had just entered an eating competition. Just go to school, even if something bad happens. As I said my life did a somersault that time, and it felt as if the world wants to squeeze the breath out of me. But I didn't let it. I just went and went to school even though it didn't interest me anymore and as the graduation day loomed nearer, the anticipation grew. "Why can't the days roll faster!?" I literally asked myself that everyday, and since
I
was the asker to
my
self, I got no answer.
Word of the wise (ish): don't always ask yourself. If you do and didn't get a reply, well don't wonder why.
Whaaaaaaaaaaaat. Oh god oh god.
Seriously though, I advice you to not rush it. Because once it's over you're not going to get it back. Unless, of course, you didn't pass the year and are advised to repeat.
Good luck.