I'm so hurt right now, this is 26x worse than my last breakup. It's like my heart's being... I don't know, squeezed? Twisted?
My puppy died this afternoon, while I was out. I've been told he suffered before dying. I can't even...
My widdle shushi... it breaks my heart..... ok now that he's gone, who will lick me awake in the middle of the night!? I must admit sometimes I found it annoying, but one night I found out why: I was crying in my sleep and yes, he was trying to wipe my tears omg. My stubborn lazy puppy wiping my stupid nightmare tears. I. Can't. Fucking. Believe. It. Remember the time when I told you every time we call his name he won't come? Unless you have a milk bowl in hand, there's no hope luring him to you. Lol. Typical of him.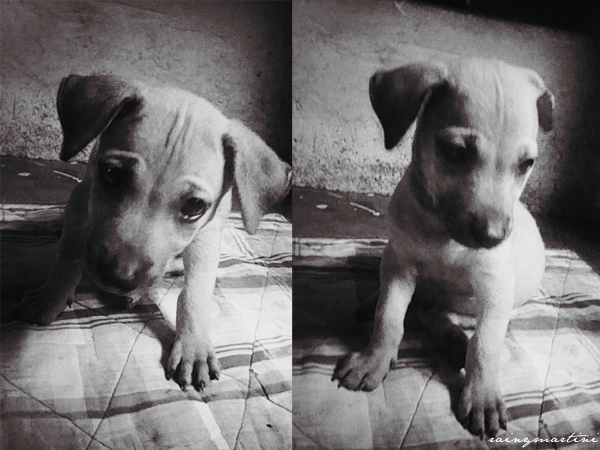 Albeit his misdemeanors, Sushi has manners. I mean
had
. I need to get used to this oh god. I still can't believe he's gone. Well anyway, when he pees/vomits on the mat, he actually folds it or sits on it (lol) so my Mom won't see. He knew how much she hates mess. Lol, he really did.
I enjoy solitary moments at home, even before he came to my life. When Sushi arrived it changed, I started to get used to him snuggling with me and his occasional pillow-wrestling. But now that he's gone, I can't even think about lying down with my thoughts without his annoying bounce and snuggles.
I can't, I can't write any more. This is too painful for me to bear. All these memories of my puppy and me... oh god. I know I'm such a ninny lol, but if the only creature who values you passes away, you'll get what I mean.
Sushi does not complain when I wrestle with him! Gently, of course. He knows this command where I sit on the floor, cover my ears and yell "Rape!" It's actually an invitation for him to "attack" me. Lol.
Lol. Lol. Lol. I found it funny when he barks at his reflection. Lol. And that time when...
I
need
to laugh. I hate my annoying puffy eyes.
Sushi why'd you go without saying goodbye!? I just got home okay. I slept over at Nel's for two nights and spazzed about guys and books. I was laughing the whole two days without knowing that my little baby was suffering. I can't help but feel guilty. But what's done's done.
Maybe he didn't want me to remember him like that? When Kimbap died, it was also the time when I slept over at Nel's.
Coincidence?
Cool, man. Cool. I'm trying to be as cheerful as possible. For my sake. For Sushi's soul's sake (if he ever has one) (I bet he does!) (because I say so).
I should light joss sticks.
Goodbye my baby. /cries forever