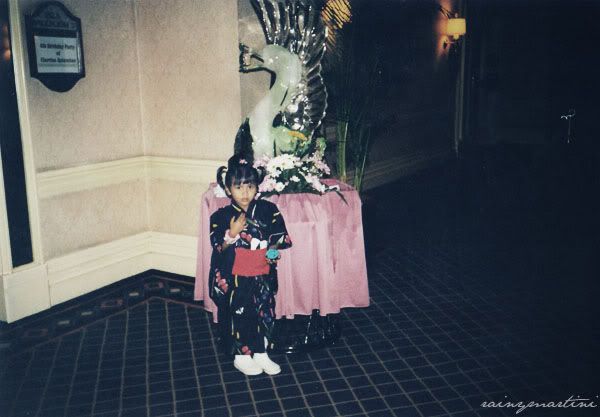 The first photo was taken from when I was 5. Before or after trick-or-treating, I can't be sure. For all I know there's a nyummy-lookin' dome of Chupa Chups and a vintage-looking SLR camera on the center table. And yeah, I always show up as a pumpkin stuffing during Halloween. I dunno, maybe because I like eating squash and it was practically the only vegetable I used to eat. Save for potatoes and corn.
Don't ask me why because I'm not sure why I was wearing an over-sized kimono either. I mean, I'm Chinese lol. Was it during one of my childhood friends' birthday party? A tea party? If it was a tea party, why wasn't I wearing a cheonsam? Oh well, it was an occasion all right and there was a gorgeous ice sculpture behind me in all its blazing glory. If ices can uh, blaze.

Today I turn eighteen, and reaching such age—no matter how cliché—is both a gift and a curse. They're together like Yin and Yang. I am officially, legally an adult now; an adult, a new label I'm being forced to wear. I won't get to wear it like a shirt though. It's not something you peel off your body when it gets soiled. Being an adult means... well, I dunno. I just turned into one a few hours ago.
It's a tattoo. I have it on my skin, and I can have it on my tongue (not to mention my piddly diddly parts) (like, my tummy, wait what were you thinking!?). It's something I'll wear for the rest of my life. It's not necessarily a brand or a label, but the word gives a whole new nuance to my existence. I don't know, to be honest.
I showed you a slice of my childhood. I can't believe I can now officially take on what the song Fireflies (Owl City) really means.